KOMPAN

DENMARK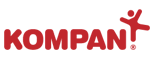 Kompan, an associate of ZTC International, is a dedicated, child-focused play equipment company. It has a unique approach to designing playground equipment that has enriched children's play experiences for more than 35 years. Its products are a blend of modern design and exceptional play value based on the fact that children have different abilities at every stage in their development.

Play Equipments
Moments offers plenty of opportunity for swinging, exercises for physical gross motor skills, and also stimulates the vestibular system to promote balancing and spatial awareness in children. Elements, is a colour concept designed to catch the eye. This is a world full of energy and Magical spaces. It gives a new inspiration to the playground. Elements play Equipments facilitates the inclusion of children with special needs. Elements Edge or Play 3600 takes the children to the Edge in their search for physical, intellectual and social challenges with friends. Play 3600 also adds more dynamic play into any playground. The durable materials used in Elements Edge such as stainless and galvanized steel. It features steel posts with vulcanized rubber thick walled plastics which are low maintenance and its tough street-wise look appeals to the age group. Galaxy, Nature, Free Game, Corocord are among the other products offered .


ZTC´s

Role

ZTC helps the client to design and engineer the play areas for children with various products supplied by Kompan. The designs utilise the space as effectively as possible, taking into consideration the layout of the land and other landscape elements. Kompan has a range of products/ concepts that can be used for various types of play areas and for children of 1+ to 15+ years.