GREEN

WALL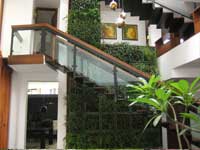 With nationwide emphasis on being environment friendly and conserving resources, beautiful creations like a Green Wall are bound to become common place in most commercial and residential buildings. A Green Wall, also known as living wall, bio wall or a vertical garden, is a living plant based exterior or interior wall to buildings or homes which may be free standing structures or part of the building. They are more frequently composed of climbing plants, but there are other options that some designers have incorporated in which the plants are grown in specially made support structure and growth media such as soil.
The benefits of a Green Wall go far beyond aesthetics. A Green Wall is a natural insulation that helps to maintain and regulate the temperature within a building. It has been observed that the exterior of a wall with a Green Wall is 10 degrees cooler than an exposed wall. With the rising costs and shortage of energy, this feature reduces consumption of energy for heating or cooling in a multiple occupancy building. Green Walls have the ability to cut electricity bills up to 20% and also shield the building from sun, rain and thermal fluctuations.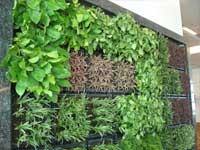 Living walls used on the interior of a building can also help to maintain humidity levels as well as assist in the air filtration, which can be a problem for some commercial buildings because they are located in crowded parts of the city. According to the EPA (Environmental Protection Agency), USA, poor indoor air quality is ranked fourth on a list of 31 of the worst environmental threats that the average worker faces each day.
Another benefit of Green Walls is that they can be a means of water reuse. The plants may purify slightly polluted water by breaking down the nutrients and filtering into the water system. They also have the ability to absorb noise and reduce noise pollution inside the building while increasing the property value of a building.
Elmich also contributes as a close associate, by way of world-class landscaping products. Elmich provides VGM Green Wall which comprises vertical modules assembled from high strength lightweight structural panels, incorporating interlocking snap-on clips for easy assembly. The front panel has a unique grid to facilitate planting of up to 16 plants per module. The VGM Green Wall module installations include drip irrigation systems that are positioned at appropriate intervals, depending on wall heights. Collection trays may be positioned, at ground level to allow overflow water to be discharged or recycled. These modules allow effective greening of both interior and external walls and facades.
ZTC´s

Role

ZTC is the pioneer in introducing Green Wall concepts in India and also one of the first companies in the world to design a Green Wall more than 150 meters high under one roof. We also believe in creating building designs that conserve energy and incorporate more natural features. At the time of design and execution, ZTC considers important factors such as location access, structural inspections, irrigation, drainage maintenance, plant selection and maintenance; hence creating a sustainable and easily maintained value addition to the building in question.