A word from MD
Dear Readers,
It is my pleasure to introduce this first newsletter of
ZTC International Landscape Solutions Pvt. Ltd. We are a Green Concepts company to introduce the technology of Landscape Engineering in India. We create aesthetically pleasing as well as environmentally friendly man-made landscapes using Landscape Engineering technology.
Never has been the need for an effective global alliance to conserve the natural environment and resources and to curb the negative impacts of human involvement been greater. Sustainable development is the core to the Landscape Engineering technologies. The need to achieve environmental, socio-behavioural, and / or aesthetic outcomes can only be met by effectively using Landscape Engineering technologies.
In accordance ZTC Cognisance aims to share information about the various projects that we design, engineer, and execute as well as provide news and insights on developments in the field of Landscape Engineering. We would welcome suggestions from readers for future editions. I would like to appreciate efforts of the ZTC Team to produce this first newsletter.

Hema Kumar J
MD, ZTC International Landscape Solutions Pvt. Ltd.
ISOLA Conference 2011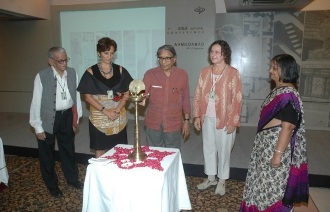 ZTC International Landscape Solutions Pvt. Ltd. is the proud Silver Sponsor of the ISOLA Conference 2011 held in the city of Ahmedabad this year. The conference aims to cogitate on the Cultural Landscapes from the earliest known evidence of civilisation, to the classical period of about the fifth century C.E. for the Indian sub-continent.
The conference explored various aspects of civilisation and cultural development like: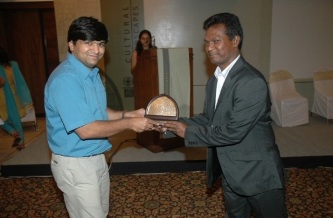 Natural Landscapes of Early Holocene – Natural resources and husbandry, Rise and fall of civilisations attributing to the ecological and geographical factors.
Cultural Landscapes of Early Indian Janapada – Technology, Agricultural development and technology, Organisation of Labour, industry and Commerce.
Aspects of political ideas and institutions, Social conditions and Legal frameworks, Economy, trade and cultural contacts with the other contemporaneous civilisations, Urbanism, Medicine, Land tenures, acts and management.
Current thinking on cultural landscapes.
Thinking through the Indian cultural landscape; idea, practice.
Recently Completed Project Information
Project name: Sunil Sarawagi's Residence (Green Wall)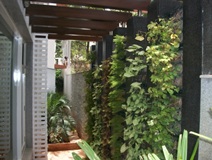 ZTC International Landscape Solutions Pvt. Ltd. recently completed the Vertical Green Wall for Mr. Sunil Sarawagi's residence located in Koramangala Bangalore. The construction of the entire wall took 14 men days to finish. 39 ZTC customised HK Kadosh modules with automated inbuilt drip irrigation system were used to create the Green Wall. As compared to conventional modules HK Kadosh modules are small in size, light weight, easy to plant, install, and maintain,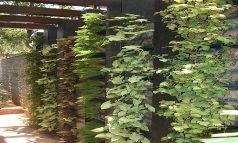 more attractive, and with separate drainage outlets to avoid run-off. The Green Wall construction project begins with the fixing of the pilasters and ends with the commissioning of the entire system. Facing this green wall was another wall which did not allow maximum day light for the plants which made the selection of plants species a vital issue. Four species of plants used in the wall are Asparagus Densiflorus 'Meyersi', Cissus Rhombi Folia, Syngonium Podophyllum 'White', and Syngonium Regina.

Valuable contributions from: Ms. Nithyadevi and Mr. Chandrashekar
Department: ZTC Projects Landscape Engineering

Project name: Ozone Urbana (UV Filtration)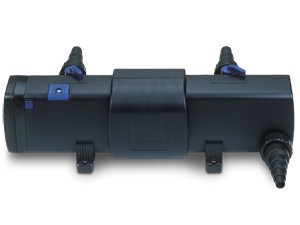 ZTC International Landscape Solutions Pvt. Ltd. recently handed over the filtration project of water bodies for Ozone Group which has developed residential apartments in Devanahalli International Airport area of Bangalore. The project began in May 2011 and got completed in August end. It is a small sized project for filtering the oval pond with water capacity of 75,000 liters. The sand filter of 500 mm diameter with multi port valve used for the project is imported from Europe. Also a BitronC 110w UV clarifier with patented self-cleaning and bypass technology is used to filter the pond. The clarifier has automatic cleaning rotor, closure technology, throttle handle, and inspection window. The clarifier disinfects the water from the algae that grows in the stagnant water. The clarifier is imported from the German company Oase. Apart from that filter pump, inlets, and ISI marked pipes and fittings were also used.

Valuable contributions from: Mr. Saravanan and Mr. Ramesh
Department: ZTC Projects Electro Mechanical.
Ongoing Project Information

ZTC International Landscape Solutions Pvt. Ltd. is currently working on an irrigation project for the Embassy Group. The irrigation project is medium sized project which began in the month of June 2011. The project is expected to be completed by the month of November 2011. The area to be irrigated is 20 acres and it is covered with the grass, shrubs, as well as trees. The project uses the following types of irrigation systems to water the wide variety of plants at the site: rotor, Institutional spray sprinklers that cover a radius of 2.4 to 21 meters, drip irrigation system, and bubblers for trees. The main products being used for the irrigation project are rotors manufactured by the American company Hunter. The nozzle of the rotors used can be adjusted to move from 45 degrees to 360 degrees depending on the area to be irrigated around the Sprinkler.

The rotors are of the size height 20 cm with discharge rate of 0.82 to 7.24 meter cube per hour. The rotor type used is I-25/31 Plus. The entire area to be irrigated is divided into different zones and different timings are set for the various zones to be irrigated automatically at the preset time. Apart from it ISI marked PVC pipes and other fittings are also being used at the site.

Valuable contributions from: Ms Dhanya and Mr. Srikant
Department: ZTC Planning and Estimation
Tips
Gardening made easier and greener
The best tip to follow is water the garden early in the morning or late in the evening to avoid loss due to evaporation.
Also never over water the garden. Water only till the earth becomes moist, not waterlogged.
If you have big garden it would be advisable if you can put to use irrigation systems that effectively use water. Drip irrigation and sprinkler irrigation systems can be easily adapted for huge gardens.
You can make your garden come alive by planting trees and shrubs that attract birds and beautiful insects. To attract birds you can use nest boxes with food and water for them.
Attempt growing strong grass in uncovered piece of land, and persuade community in your surrounding areas to do so too.
The easiest way to increase soil fertility and reduce the need for frequent watering is by putting the waste in the garden to use. Sweeping the fallen leaves and flowers into flower beds and under shrubs is a good idea.
You can use extra space available in the garden to make a compost pit and turn the organic waste from your kitchen and garden to get soil enriching fertiliser absolutely free.
Avoid using chemicals in the garden - as they finally end up in the sea and disturb the fragile balance of lifecycles.
Natural and environmentally beneficial fertilisers and insect repellents are easy to obtain - organic gardening decreases pollution and is healthier for flora and fauna.
For further information please refer to our website www.ztcinternational.comand direct all queries to info@ztcinternational.com
Regards,
ZTC Cognisance Team
To subscribe to the newsletter please send mail to info@ztcinternational.com.
To unsubscribe to the newsletter please send mail to info@ztcinternational.com.
Copyright: ZTC International Landscape Solutions Pvt. Ltd.