A word from MD
Dear Readers,

I would like to wish all the readers of ZTC Cognisance a very delightful and flourishing 2012. I would like to take this opportunity to inform the readers that this year also in accordance with our vision and mission we will continue to develop newer and greener sustainable technologies for making buildings and surroundings greener and healthier.
The role of Landscape Engineers in designing these greener areas is pivotal. We enjoy attractively designed gardens, residences, schools and colleges, shopping areas, public spaces and buildings and recreation centers. It is not just functional but beautiful and in harmony with the nature. At times Landscape Engineers have to get to collaborate with landscape architects, environmental scientists, foresters, and other professionals to figure out the best way to preserve or refurbish natural wealth. We are equipped to generate detailed designs for fountains, play parks, artificial lakes, green roofs, green walls, etc. I would like to take this opportunity to acknowledge the role of Landscape Engineers in beautifying our surroundings and giving us greener and healthier places to live and work in as well as to enjoy ourselves.
I would like to summarise by welcoming your valuable suggestions for the improvement of our newsletter and by thanking you for your continued attempt towards encouraging the efforts put in by the ZTC team in coming up with the third edition of ZTC Cognisance.
Hema Kumar J
MD, ZTC International Landscape Solutions Pvt. Ltd.
ZTC is now an ISO Certificated Company
In conversation with Mr. Chandrasekhar
ZTC Management Representative for ISO Certification Process
What is the ISO Certificate for?
As we all know ISO (International Organisation for Certification) is world's major developer and publisher of International Standards. When products, methods, apparatus and equipments function fine and safely, it is mostly because they meet certain norms. For ZTC ISO certificate indicates that the company has been officially recognised for adhering to the standard processes.
When did we think of having an ISO Certificate?
When we saw the trust put in us by our valued Architects and customers the responsibility of having effective and efficient processes in place became important and mandatory to serve our customers better.
Why is having ISO Certificate important for ZTC?
For us the ISO would ensure that our products and services are quality, environmentally friendly, safe, reliable, efficient and available at an economic cost. ZTC is a growing company and our counterparts like KOMPAN and Oase, have world class products and the ISO certificate will prove that our products and services are also a perfect match for our international brands.
How did ZTC procure the ISO Certificate?
ZTC procured the ISO Certificate after going through two rigorous audits, the first in April 2011 and the second in July 2011. The TUV auditors checked all the documents to ensure that ZTC adheres to the standard processes.
What can a client expect from ZTC now?
ZTC clients can expect that the products and services that they avail from ZTC meet international standards of quality and that the company complies with keeping the related processes and documentation in place. The client can expect that ZTC is committed to the method and model of quality management described in the standard.
Now after the certificate if our Marketing Executive goes to a client, the client will know we will have standard procedures to follow and some forms to fill up as we need to adhere to the standard process.
ZTC Research and Development Center
In conversation with Ms. Nithyadevi
ZTC Horticulture
What efforts went into developing the new research center?
ZTC started its research operation on a small piece of land in the year 2001. Now it is spread across 2 centers in Bangalore. The setting up of the research center was a huge challenge on its own nevertheless with an efficient and committed team it was a success.
How does this new center benefit ZTC?
Previously we had only one unit to conduct research and development. The old unit was located in a congested area that did not allow for easy loading and unloading of plants, media, etc. The new center contributes towards the growth of ZTC by reducing mortality of the plants as it provides us with all the amenities required for proper research and development on the plants that are used for the Green Walls.
For ZTC the requirement of modules for the various Green Wall projects is soaring. In order to cater to the increased demand of the modules it became necessary for ZTC to have a proper research and development center for the plants. This has become possible with the large space available and proper facilities for the plants to adapt to the soilless media of the modules.
How can ZTC serve clients in a better way now?
As at the new center proper ventilation and sunlight is available, it allows for the healthy growth of plants. Furthermore, at the new center there is enough space to load and unload the plants, media, etc. This reduces plant mortality to a considerable extent. ZTC can now service its clients more efficiently and effectively.
Recently Completed Project Information
NEOLITE Zkw (Water Feature)
ZTC recently completed installation of fountain at NEOLITE Zkw, Bahadurgarh in Haryana. For the water feature ZTC used submersible fountain pump and fountain jet nozzle (make - Oase, Germany) with underwater lights (make - Seliger, Germany). For the fountain accessories used comprised conduit, deck box, transformer, distributor, junction box, cable, cleaning kit, filter, valves, and pipes.
NEOLITE Zkw is the largest exporter of Automotive Lighting from India, exporting to 80 countries.
The variety of play equipments used at the school are: Lighthouse, Hopper, Spinner Bowl, Racer, Octopus Seesaw, Swings, Sliders, and Home and Ocean The children can do the activities like swinging, stretching, rocking, sliding, balancing, jumping, and climbing. The children attain benefits like better health, social integration, learning while playing on these equipments.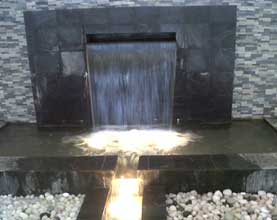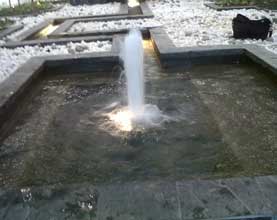 Valuable contributions from: Mr. Abhishek Shukla and Ms. Dhanya Subash
Department: Sales & Marketing (Delhi), Planning & Estimation

Rungta Residence (Green Wall)
ZTC recently completed the installation of green wall at the Rungta residence in Kolkata. The green wall installed is outdoor sunny wall. ZTC used Elmich modules for the wall. One area where the wall is installed is family area and the other is swimming pool area.
The area of the green wall is 33 sq mts. Eight varieties of plants used for this Green Wall project are: Zebrina pendula, Pandanus pygmaeus, Alternanthera green and mixed, Crassula ovata, Rheo discolour and tricolour, Sansevieria trifaciata.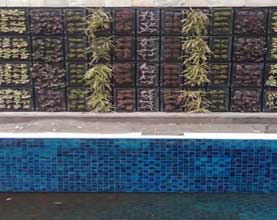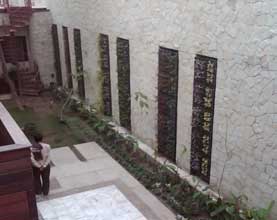 Valuable contributions from: Mr. Rajesh Kumar
Department: Projects Landscape Engineering
Padam Residence (Green Wall)
Installation of a free standing outdoor Green Wall at Padam Residence in New Delhi was recently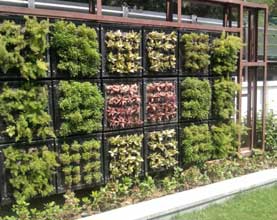 completed by ZTC. ZTC used Elmich modules for this fabricated Green Wall. The area of the wall is 4.5 sq mts. Four varieties of plants are used for the Green Wall Asparagus meyeri, Cryptanthus species, Alternanthera green, and Sansevieria trifaciata.
Valuable contributions from: Mr. Rajesh Kumar and Mr. Abhishek Shukla
Department: Projects Landscape Engineering, Sales & Marketing (Delhi)
Tips
How to maintain Bio Pond?
One of the best features that makes your landscape more tranquil and beautiful is bio pond. However efforts that go into having a bio pond do not end when the fish are introduced to their new home. Bio pond maintenance includes regular cleaning of the pond and caring for the fish.
Choose the site of pond after checking the trees and other vegetation around it. This helps to easily control pollution of the pond water.
Bio pond should be at least 3 to 4 feet deep. This will help protect pond fish from direct sunlight. Also water lilies can help provide shade for the pond fish. In extremely cold regions 3 to 4 feet deep pond ensures the pond does not freeze in winter. Use boiling water to melt frozen pond this will help exchange of gases between the pond water and the environment and prevent physical damage to the fish.
For easy maintenance of bio pond make sure run-off water does not enter it.
Never use chemicals like algaecide or herbicide in a bio pond.
Use bio filtration to keep the pond water free from ammonia and regularly check the ammonia and nitrite level of the water. Ammonia kit comes in handy to monitor these levels. Use ammonia neutraliser to immediately control high ammonia level in the water and check the level again after 48 hours.
Never overfeed the fish or overstock the pond with fish. Calculate the volume of the pond before introducing the fish. Consider the adult size of fish while deciding on the number of fish for a bio pond.
For exterior Green Wall it is necessary to check for weeds on the wall on regular basis.
Use mechanical filters to keep the pond free from debris and keep aerating the pond to maintain oxygen level. Installation of water-fall or fountain can help aerate water.
For further information please refer to our website www.ztcinternational.com and direct all queries to info@ztcinternational.com .
Regards,
ZTC Team
To subscribe to the newsletter please send mail to info@ztcinternational.com.
To unsubscribe to the newsletter please send mail to info@ztcinternational.com.
Copyright: ZTC International Landscape Solutions Pvt. Ltd.